ICNPR 2020 – Cancelled
The Hyatt Regency San Francisco at Embarcadero Center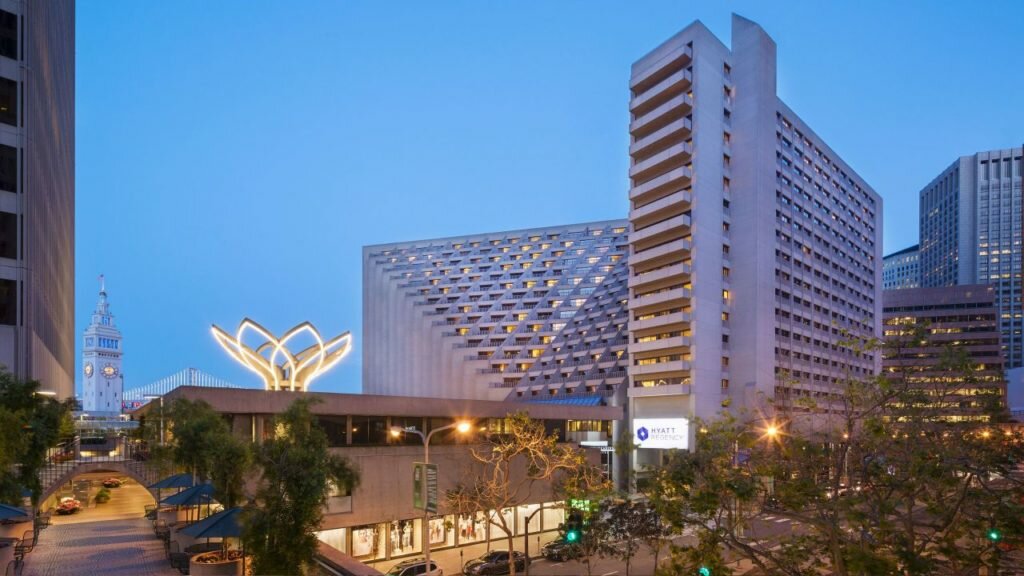 The hotel and venue for ICNPR 2020 is the Hyatt Regency San Francisco at Embarcadero Center (5 Embarcadero Center).
Note there are multiple Hyatt properties in and near San Francisco. For ICNPR 2020, be sure you arrive at the Hyatt Regency at 5 Embarcadero Center. See the map at the bottom of this page.
For information, photos and videos of the Hyatt Regency at Embarcadero Center, visit the website below. However, do not book rooms from the hotel website. Please see below for the exclusive ICNPR 2020 hotel registration.
https://sanfrancisco.regency.hyatt.com
The Hyatt Regency San Francisco at Embarcadero Center features over 800 recently renovated rooms surrounding an indoor open-air 17-story atrium. It is located across the street from the San Francisco Bay and next to the Embarcadero Center, which is in the heart of the business district of San Francisco. Many major attractions are a short walk or ride away, including Chinatown, Fisherman's Wharf / Pier 39, and Union Square. The historic Ferry Building is across the street from the Hyatt, and numerous ferries will take you to Alcatraz, Marin County and other locations in the Bay. The famous San Francisco Cable Car has a stop directly in front of the Hyatt, and within a block or two are stations for BART (Bay Area Rapid Transit) and San Francisco MUNI (city bus and light rail). A wide range of dining options of all price levels can be found within a few blocks of the hotel.
---
ICNPR 2020 Discounted Rates:
Single/Double $259 / night USD + tax/local fees*
Triple $284 / night USD + tax/local fees*
Quad** $309 / night + taxes/local fees*
(**not recommended for 4 adults)
*as of November, 2019 – 16.64% tax and local fees (subject to change)
Due to the nature of our contract, ICNPR 2020 participants who reserve rooms at the Hyatt Regency at Embarcadero Center will be exempt from the "Destination Fee" which would normally be charged in addition to the room rate + tax/fees. For the Hyatt Regency Embarcadero Center, this means a savings of approximately $29 per night. Most other major hotels in or near San Francisco charge these additional fees (also called "resort" or "amenity" fees) ranging from $15 to $35 per night.
The Exclusive rates for ICNPR 2020 are available ONLY by using this link:
ICNPR 2020 – Hyatt Regency San Francisco at the Embarcadero
We anticipate some nights during ICNPR 2020 to reach our capacity. Book your rooms soon!
---
Visit the Rapidloansfast.com website if you need an instant loan for travel and car rental .
Looking for a roomate? Please see our Room Share Form
---
FUN FACT: the 1977 Mel Brooks movie "High Anxiety" was filmed in our hotel!
Getting from San Francisco or Oakland Airports to the Hyatt Embarcadero
Visit the "Travel" page on the ICNPR 2020 website for information on ways to get from San Francisco International Airport (SFO) or Oakland International Airport (OAK) to the Hyatt Regency Embarcadero by BART or other transportation options.
Parking
Parking is available in the Hyatt Regency Embarcadero garage for $67/day + tax for hotel guests. Parking may be available in nearby garages for a lower price. As our meeting hotel is located in the heart of the business district, parking will be very expensive and limited. ICNPR 2020 participants are encouraged to use public transportation or ride-sharing options as much as possible.
Visit the Hyatt Regency Embarcadero website for information on the hotel, rooms and amenities.
https://sanfrancisco.regency.hyatt.com
Map showing the location of the Hyatt Regency San Francisco Embarcadero Center
(5 Embarcadero Center)